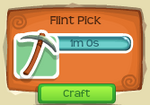 Flint Pick is the first material to be crafted. To craft it, you need to gather Flint Shards.
Requirements To Craft This Material:
Edit
The crafting of this material will take 1m 0s.
Flint Pick has only one offer. The offer expires once you exit the offer. Inside the offer, there's a Mastered Flint Pick.